[vc_row][vc_column][vc_column_text]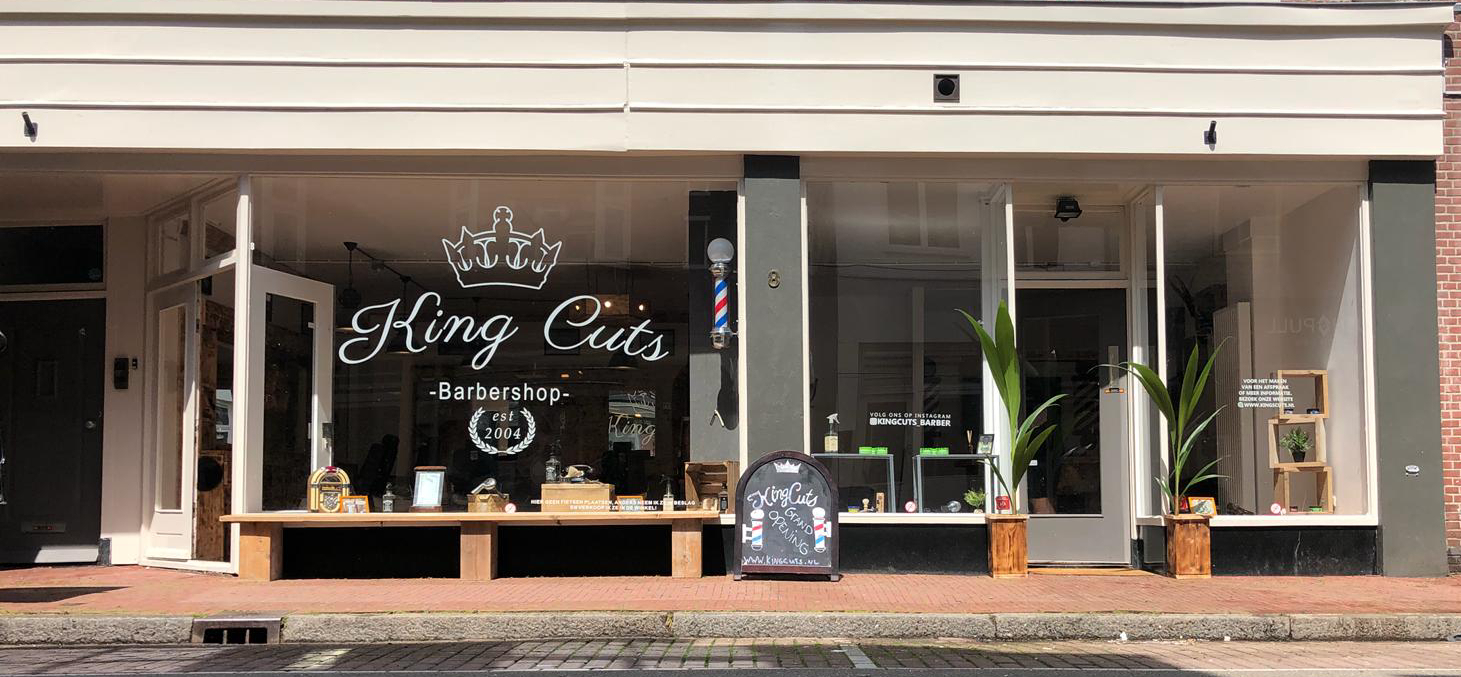 [/vc_column_text][mpc_alert preset="mpc_preset_26″ icon="eti eti_info_alt" icon_color="#ffffff" icon_size="30″ icon_background_color="#5baf92″ icon_padding_divider="true" icon_padding_css="padding-top:25px;padding-right:25px;padding-bottom:25px;padding-left:25px;" font_color="#ffffff" font_size="20″ font_transform="uppercase" font_align="left" content_padding_divider="true" content_padding_css="padding-top:25px;padding-right:25px;padding-bottom:25px;padding-left:25px;" background_color="#68c3a3″ border_divider="true" border_css="border-top:0px;border-right:0px;border-bottom:3px;border-left:0px;border-color:#54a37d;border-style:solid;border-radius:15px;" padding_divider="true" margin_divider="true"]Wij zijn vanaf woensdag 3 maart weer open, boek vandaag nog jouw afspraak![/mpc_alert][vc_separator][vc_column_text]
KING CUTS BARBERSHOP GRONINGEN
[/vc_column_text][mpc_tabs preset="preset_0″ tabs_h_align="center" active_tab="0″ font_preset="preset_2″ font_color="#3d3d3d" font_size="16″ content_padding_divider="true" mpc_button__preset="mpc_preset_55″ mpc_button__font_preset="preset_2″ mpc_button__font_color="#ffffff" mpc_button__font_size="12″ mpc_button__font_transform="uppercase" mpc_button__background_type="gradient" mpc_button__background_gradient="#3f3f3f||#383838||0;100||180||linear" mpc_button__border_divider="true" mpc_button__border_css="border-top:0px;border-right:0px;border-bottom:3px;border-left:0px;border-color:#878787;border-style:solid;border-radius:5px;" mpc_button__padding_divider="true" mpc_button__padding_css="padding-top:4px;padding-right:6px;padding-bottom:4px;padding-left:6px;" mpc_button__hover_font_color="#ffffff" mpc_button__hover_border_divider="true" mpc_button__hover_border_css="border-color:#232323;border-style:solid;" button_margin_divider="true" button_margin_css="margin-top:3px;margin-right:4px;margin-bottom:3px;margin-left:4px;"][mpc_tab title="Contact" tab_id="1507887133-2-3″][vc_raw_html]JTNDcCUyMGNsYXNzJTNEJTIycGNlbnRlciUyMiUzRSUzQ3N0cm9uZyUzRUtJTkclMjBDVVRTJTIwQkFSQkVSU0hPUCUyMEdST05JTkdFTiUzQyUyRnN0cm9uZyUzRSUzQ2JyJTNFJTBBTmlldXdld2VnJTIwOCUyQyUyMDk3MTElMjBURCUyMEdyb25pbmdlbiUzQ2JyJTNFJTBBMDYxMzUwMzM0OCUzQ2JyJTNFJTBBRWxrZSUyMGRhZyUyMGtuaXBwZW4lMjBtZXQlMjBvZiUyMHpvbmRlciUyMGFmc3ByYWFrJTJDJTIwYmlqJTIwdm9vcmtldXIlMjBtZXQlMjBhZnNwcmFhay4lMEElM0MlMkZwJTNF[/vc_raw_html][/mpc_tab][mpc_tab title="Openingstijden" tab_id="1507887133-2-4″][vc_column_text css=".vc_custom_1604935952018{padding-right: 40px !important;padding-left: 40px !important;}"]
DE OPENINGSTIJDEN
Zondag: Gesloten
Maandag: 12:00 – 17:00
Dinsdag: 10:00 – 21:00
Woensdag: 10:00 – 20:00
Donderdag: 10:00 – 21:00
Vrijdag: 10:00 – 21:00
Zaterdag: 10:00 – 17:00
[/vc_column_text][/mpc_tab][mpc_tab title="Prijzen" tab_id="1507887133-1-10″ mpc_button__icon_color="#dd0016″][vc_column_text css=".vc_custom_1606326248476{padding-right: 40px !important;padding-left: 40px !important;}"]
DE PRIJZEN (sinds 7 mei 2020)
Baard trimmen/scheren
€12,50
Haren knippen en baard trimmen
€30,-
Kinderen knippen
€17,50,-
Alles 1 lengte knippen
€15,-
King cuts royal treatment
€35,-
Knippen + traditioneel scheren of baard trimmen + haren stylen + baard verzorgen met olies
Studenten korting knippen
€17,50.-
Op maandag t/m woensdag, knippen voor maar €17,50.- op vertoon van studentenkaart
[/vc_column_text][/mpc_tab][/mpc_tabs][/vc_column][/vc_row][vc_row full_width="stretch_row_content_no_spaces" css=".vc_custom_1508835301479{padding-top: 40px !important;}"][vc_column][vc_raw_html]JTNDZGl2JTIwc3R5bGUlM0QlMjJ0ZXh0LWFsaWduJTNBJTIwY2VudGVyJTNCJTIwbWFyZ2luLWJvdHRvbSUzQSUyMDIwcHglM0IlMjIlM0UlM0NoMiUzRU1BQUslMjBPTkxJTkUlMjBFRU4lMjBBRlNQUkFBSyUzQSUzQyUyRmgyJTNFJTNDJTJGZGl2JTNFJTBBJTNDZGl2JTIwY2xhc3MlM0QlMjJjaG9vc2VyJTIyJTNFJTBBJTNDYSUyMGNsYXNzJTNEJTIyd3AtZ29vZ2xlLXBsYWNlJTIwYmFyYmVyc2hvcGNhcmQlMjBhY29sb3IlMjIlMjB0aXRsZSUzRCUyMkJhcmJpZXIlMjBGYWJpYW4lMjIlMjBocmVmJTNEJTIyYmFyYmllci1mYWJpYW4lMkYlMjIlM0UlMEElM0NkaXYlMjBjbGFzcyUzRCUyMndwLWdvb2dsZS1sZWZ0JTIyJTNFJTNDaW1nJTIwY2xhc3MlM0QlMjJmaWZ0eSUyMGxhenlsb2FkZWQlMjIlMjBzcmMlM0QlMjJodHRwcyUzQSUyRiUyRmtpbmdjdXRzLm5sJTJGd3AtY29udGVudCUyRnVwbG9hZHMlMkZCYXJiaWVyX0ZhYmlhbi1taW4tMS5qcGclMjIlMjBhbHQlM0QlMjJCYXJiaWVyJTIwRmFiaWFuJTIwdmFuJTIwS2luZyUyMEN1dHMlMjBCYXJiZXJzaG9wJTIyJTIwZGF0YS1sYXp5LXNyYyUzRCUyMmh0dHBzJTNBJTJGJTJGa2luZ2N1dHMubmwlMkZ3cC1jb250ZW50JTJGdXBsb2FkcyUyRkJhcmJpZXJfRmFiaWFuLW1pbi0xLmpwZyUyMiUyMGRhdGEtd2FzLXByb2Nlc3NlZCUzRCUyMnRydWUlMjIlMjAlMkYlM0UlM0MlMkZkaXYlM0UlMEElM0NkaXYlMjBjbGFzcyUzRCUyMndwLWdvb2dsZS1yaWdodCUyMiUzRSUwQSUzQ2RpdiUyMGNsYXNzJTNEJTIyYmFyYmVybmFtZSUyMiUzRUJhcmJpZXIlMjBGYWJpYW4lM0MlMkZkaXYlM0UlMEElM0MlMkZkaXYlM0UlMEElM0MlMkZhJTNFJTBBJTNDYSUyMGNsYXNzJTNEJTIyd3AtZ29vZ2xlLXBsYWNlJTIwYmFyYmVyc2hvcGNhcmQlMjBhY29sb3IlMjIlMjB0aXRsZSUzRCUyMkJhcmJpZXIlMjBGcmFuayUyMiUyMGhyZWYlM0QlMjIlMkZiYXJiaWVyLWZyYW5rJTJGJTIyY2xhc3MlM0QlMjJ3cC1nb29nbGUtcGxhY2UlMjBiYXJiZXJzaG9wY2FyZCUyMiUzRSUwQSUzQ2RpdiUyMGNsYXNzJTNEJTIyd3AtZ29vZ2xlLWxlZnQlMjIlM0UlM0NpbWclMjBjbGFzcyUzRCUyMmZpZnR5JTIwbGF6eWxvYWRlZCUyMiUyMHNyYyUzRCUyMmh0dHBzJTNBJTJGJTJGa2luZ2N1dHMubmwlMkZ3cC1jb250ZW50JTJGdXBsb2FkcyUyRldoYXRzQXBwLUltYWdlLTIwMTktMDktMTYtYXQtMjEuMjcuMTctMS5qcGVnJTIyJTIwYWx0JTNEJTIyQmFyYmllciUyMEZyYW5rJTIwdmFuJTIwS2luZyUyMEN1dHMlMjBCYXJiZXJzaG9wJTIyJTIwZGF0YS1sYXp5LXNyYyUzRCUyMmh0dHBzJTNBJTJGJTJGa2luZ2N1dHMubmwlMkZ3cC1jb250ZW50JTJGdXBsb2FkcyUyRldoYXRzQXBwLUltYWdlLTIwMTktMDktMTYtYXQtMjEuMjcuMTctMS5qcGVnJTIyJTIwZGF0YS13YXMtcHJvY2Vzc2VkJTNEJTIydHJ1ZSUyMiUyMCUyRiUzRSUzQyUyRmRpdiUzRSUwQSUzQ2RpdiUyMGNsYXNzJTNEJTIyd3AtZ29vZ2xlLXJpZ2h0JTIyJTNFJTBBJTNDZGl2JTIwY2xhc3MlM0QlMjJiYXJiZXJuYW1lJTIyJTNFQmFyYmllciUyMEZyYW5rJTNDJTJGZGl2JTNFJTBBJTNDJTJGZGl2JTNFJTBBJTNDJTJGYSUzRSUwQSUzQ2ElMjBjbGFzcyUzRCUyMndwLWdvb2dsZS1wbGFjZSUyMGJhcmJlcnNob3BjYXJkJTIwYWNvbG9yJTIyJTIwdGl0bGUlM0QlMjJCYXJiaWVyJTIwS2V2aW4lMjIlMjBocmVmJTNEJTIyJTJGYmFyYmllci1rZXZpbiUyRiUyMmNsYXNzJTNEJTIyd3AtZ29vZ2xlLXBsYWNlJTIwYmFyYmVyc2hvcGNhcmQlMjIlM0UlMEElM0NkaXYlMjBjbGFzcyUzRCUyMndwLWdvb2dsZS1sZWZ0JTIyJTNFJTNDaW1nJTIwY2xhc3MlM0QlMjJmaWZ0eSUyMGxhenlsb2FkZWQlMjIlMjBzcmMlM0QlMjJodHRwcyUzQSUyRiUyRmtpbmdjdXRzLm5sJTJGd3AtY29udGVudCUyRnVwbG9hZHMlMkZCYXJiaWVyS2V2aW4yLmpwZyUyMiUyMGFsdCUzRCUyMkJhcmJpZXIlMjBLZXZpbiUyMHZhbiUyMEtpbmclMjBDdXRzJTIwQmFyYmVyc2hvcCUyMiUyMGRhdGEtbGF6eS1zcmMlM0QlMjJodHRwcyUzQSUyRiUyRmtpbmdjdXRzLm5sJTJGd3AtY29udGVudCUyRnVwbG9hZHMlMkZCYXJiaWVyS2V2aW4yLmpwZyUyMiUyMGRhdGEtd2FzLXByb2Nlc3NlZCUzRCUyMnRydWUlMjIlMjAlMkYlM0UlM0MlMkZkaXYlM0UlMEElM0NkaXYlMjBjbGFzcyUzRCUyMndwLWdvb2dsZS1yaWdodCUyMiUzRSUwQSUzQ2RpdiUyMGNsYXNzJTNEJTIyYmFyYmVybmFtZSUyMiUzRUJhcmJpZXIlMjBLZXZpbiUzQyUyRmRpdiUzRSUwQSUzQyUyRmRpdiUzRSUwQSUzQyUyRmElM0UlMEElM0MlMkZkaXYlM0UlMEElM0NiciUzRQ==[/vc_raw_html][vc_column_text]
DE BARBIERS VAN KING CUTS
[/vc_column_text][mpc_carousel_anything loop="true" auto_slide="true" delay="10000″ rows="1″ cols="1″ gap="0″ start_at="1″ item_border_divider="true" mpc_navigation__preset="preset_1″ mpc_navigation__prev_margin_divider="true" mpc_navigation__next_margin_divider="true" mpc_navigation__padding_divider="true" class="leftpad"][vc_column_text]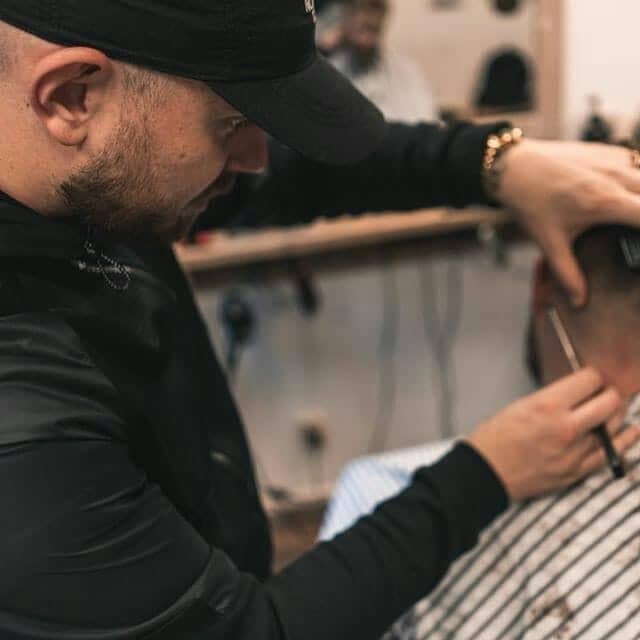 Barbier Fabian – Eigenaar
Barbier Fabian is op jonge leeftijd al gaan knippen. Daardoor heeft hij veel ervaring kunnen opdoen en heeft hij het barbiers vak goed kunnen leren. Vroeger knipte Fabian namelijk zijn buren en vrienden in de schuur van zijn ouders in Groningen. Intussen heeft Fabian in 2004 King Cuts barbershop Groningen opgericht. Fabian is leergierig, gaat met de tijd mee, verbetert en vernieuwt zijn vaardigheden constant. Dit maakt hem een uitstekende barbier.
[/vc_column_text][vc_column_text]
Barbier Frank – Allround barbier
Frank is een nieuwe barbier van King Cuts. Hij is begonnen met het knippen van vrienden en kennissen. Sinds 2 jaar werkt Frank als professioneels barbier. Frank is een enthousiaste en kritische barbier. Hij knipt ook graag buitenlands haar. Deze barbier verzorgt zijn klanten eersteklas en houdt van een praatje.
[/vc_column_text][vc_column_text]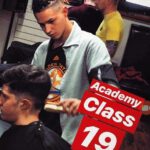 Barbier Kevin – Allround barbier
Kevin is a new barber for King Cuts from Ireland, at 20 years old and with two years of experience. He completed two barber courses in Ireland and worked in two barbershops overthere. He loves the craft and is always excited to learn more, as a native English speaker he is perfect for other internationals trying to find a barber to communicate well with.
[/vc_column_text][vc_column_text]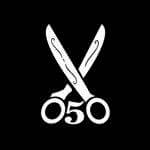 Vacature Allround Barbier
Ben jij op zoek naar een nieuwe uitdaging? Ben jij een zelfstandig werkende barbier met voldoende ervaring en voel jij je verantwoordelijk voor het constant nastreven van 100% kwaliteit? Dan ben jij de persoon die wij zoeken. Samengevat is King Cuts een barbershop met een eigen visie, een brede klantenkring uit Groningen en we werken met een nieuwe generatie top barbiers. Mail jouw motivatie en CV naar kingcuts@mail.com.
[/vc_column_text][/mpc_carousel_anything][vc_column_text]
DE PRODUCTEN VAN KING CUTS
[/vc_column_text][mpc_carousel_anything single_scroll="true" loop="true" auto_slide="true" delay="4000″ rows="1″ cols="1″ gap="0″ start_at="1″ mpc_navigation__preset="preset_1″ mpc_navigation__prev_margin_divider="true" mpc_navigation__next_margin_divider="true" mpc_navigation__padding_divider="true"][vc_single_image image="18477″ add_caption="yes" alignment="center"][vc_single_image image="18494″ add_caption="yes" alignment="center"][vc_single_image image="18482″ add_caption="yes" alignment="center"][vc_single_image image="18485″ add_caption="yes" alignment="center"][vc_single_image image="18487″ add_caption="yes" alignment="center"][vc_single_image image="18490″ add_caption="yes" alignment="center"][/mpc_carousel_anything][/vc_column][/vc_row][vc_row full_width="stretch_row_content_no_spaces" css=".vc_custom_1508705708352{padding-top: 40px !important;}"][vc_column][vc_column_text]
DE REVIEWS VAN KING CUTS
[/vc_column_text][vc_column_text css=".vc_custom_1562106827001{padding-top: 0px !important;}"]
[widget id="grw_widget-2″]
[/vc_column_text][vc_raw_js]JTNDc2NyaXB0JTIwdHlwZSUzRCUyMmFwcGxpY2F0aW9uJTJGbGQlMkJqc29uJTIyJTNFJTBBJTdCJTBBJTIyJTQwY29udGV4dCUyMiUyMCUzQSUyMCUyMmh0dHAlM0ElMkYlMkZzY2hlbWEub3JnJTIyJTJDJTBBJTIyJTQwdHlwZSUyMiUyMCUzQSUyMCUyMkxvY2FsQnVzaW5lc3MlMjIlMkMlMEElMjJuYW1lJTIyJTIwJTNBJTIwJTIyS2luZyUyMEN1dHMlMjBCYXJiZXJzaG9wJTIyJTJDJTBBJTIyaW1hZ2UlMjIlMjAlM0ElMjAlMjJodHRwcyUzQSUyRiUyRmtpbmdjdXRzLm5sJTJGd3AtY29udGVudCUyRnVwbG9hZHMlMkZLaW5nQ3V0c0xvZ28uanBnJTIyJTJDJTBBJTIydGVsZXBob25lJTIyJTIwJTNBJTIwJTIyMDYtMTM4NzQ5MjAlMjIlMkMlMEElMjJlbWFpbCUyMiUyMCUzQSUyMCUyMmtpbmdjdXRzJTQwbWFpbC5jb20lMjIlMkMlMEElMjJwcmljZVJhbmdlJTIyJTIwJTNBJTIwJTIyJUUyJTgyJUFDMTklMkM1MCUyMiUyQyUwQSUyMmFkZHJlc3MlMjIlMjAlM0ElMjAlN0IlMEElMjIlNDB0eXBlJTIyJTIwJTNBJTIwJTIyUG9zdGFsQWRkcmVzcyUyMiUyQyUwQSUyMnN0cmVldEFkZHJlc3MlMjIlMjAlM0ElMjAlMjJOaWV1d2V3ZWclMjA4JTIyJTJDJTBBJTIyYWRkcmVzc0xvY2FsaXR5JTIyJTIwJTNBJTIwJTIyR3JvbmluZ2VuJTIyJTJDJTBBJTIyYWRkcmVzc1JlZ2lvbiUyMiUyMCUzQSUyMCUyMkdyb25pbmdlbiUyMiUyQyUwQSUyMmFkZHJlc3NDb3VudHJ5JTIyJTIwJTNBJTIwJTIyTkwlMjIlMEElN0QlMkMlMEElMjJ1cmwlMjIlMjAlM0ElMjAlMjJodHRwcyUzQSUyRiUyRmtpbmdjdXRzLm5sJTJGJTIyJTJDJTBBJTIyZ2VvJTIyJTNBJTIwJTdCJTBBJTIyJTQwdHlwZSUyMiUzQSUyMCUyMkdlb0Nvb3JkaW5hdGVzJTIyJTJDJTBBJTIybGF0aXR1ZGUlMjIlM0ElMjA1My4yMTg0NDE2JTJDJTBBJTIybG9uZ2l0dWRlJTIyJTNBJTIwNi41NzM5ODgyJTBBJTdEJTJDJTBBJTIyYWdncmVnYXRlUmF0aW5nJTIyJTNBJTIwJTdCJTBBJTIyJTQwdHlwZSUyMiUzQSUyMCUyMkFnZ3JlZ2F0ZVJhdGluZyUyMiUyQyUwQSUyMnJhdGluZ1ZhbHVlJTIyJTNBJTIwJTIyNCUyQzUlMjIlMkMlMEElMjJiZXN0UmF0aW5nJTIyJTNBJTIwJTIyNSUyMiUyQyUwQSUyMndvcnN0UmF0aW5nJTIyJTNBJTIwJTIyMSUyMiUyQyUwQSUyMnJhdGluZ0NvdW50JTIyJTNBJTIwJTIyNjglMjIlMEElN0QlMEElN0QlMEElM0MlMkZzY3JpcHQlM0U=[/vc_raw_js][/vc_column][/vc_row]